Industry by the Numbers
Aquaculture production volume in Newfoundland and Labrador was approximately 19,635 tonnes in 2021, an 80 percent increase over 2020. The corresponding market value was $189 million. In 2021, there were 106 commercial salmonid site licences, covering a combined area of 6,744 hectares.
Salmonid Production
Salmonid production was 15, 904 tonnes in 2021, up 99 percent compared to 2020. The market value of salmonid production was $173 million, an increase of 107 percent last year.
Atlantic salmon is the major commercial salmonid species in Newfoundland and Labrador. Steelhead trout production increased from 28 tonnes in 2020 to 448 tonnes in 2021. This growth is expected to continue to increase in the coming years.
Shellfish Production
Blue mussels account for the vast majority of shellfish production, with locally grown American oysters entering the market in the last two years. Shellfish production was 3,731 tonnes in 2021, with a value of $16 million, a 38 percent and 34 percent increase respectively. In 2021, there were 4,644 hectares of water available for commercial production of 44 licensed sites.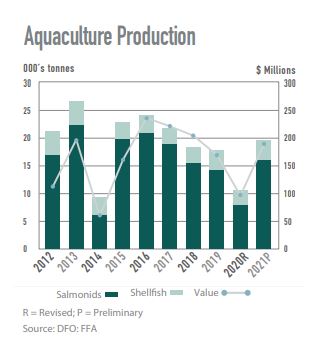 Aquaculture production statistics are published annually by the provincial Department of Fisheries, Forestry and Agriculture, Government of Newfoundland and Labrador.